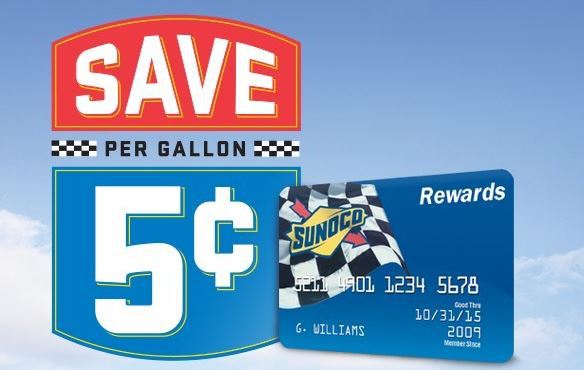 The best fuel rewards program in Maryland for 2020 offers great options.  We had dozens to choose from but decided to narrow the list down to just a few.  We also limited the list to branded fuels only since the quality of fuel you buy impacts price differentials.
1. Edgewood Sunoco Fuel Rewards
Edgewood Sunoco is an independent Sunoco operator that offers instant savings on fuel.  When you spend $30 or more in store you save 5 cents per gallon instantly.  Your fuel rewards shall and will only be honored at the time of your purchase.
Sunoco also has a fuel rewards program for credit card holders that saves you 5 cents per gallon.  An additional 20 cents off per gallon is afforded to new customers with a Sunoco rewards credit card.
Fuel rewards can be redeemed right away
Rewards program are for items on in store purchase.  Once spending threshold is met, then gas savings can be applied.
You do not need to be a Sunoco credit card holder to redeem fuel rewards at this location.
2. BP Driver Rewards
This popular program lets you save at BP and Amoco gas stations.
Changes to the program are coming, albeit.  BP says:
Changes to BP Driver Rewards will be announced soon.
In the meantime, you can continue earning fuel points by shopping at Mariano's, Fresh Perks or Harris Teeter.
You'll need to use your cents-off per-gallon rewards by September 30, 2019.
Although details of the new program aren't yet clear, BP's past record of deals makes this program worth keeping an eye on.
3. Exxon Mobil Fuel Rewards+
If you gas up at Exxon or Mobil, sign up for this program.  While many gas-rewards programs only let you save on fuel, Exxon Mobil Rewards+ branches out:
Use accumulated points for gas discounts, carwashes, snacks, drinks and more.
Want to double your points?  Fill up with Synergy Supreme+ premium gas three times (buying at least 8 gallons each time over 30 days) to qualify for Rewards+ Premium (double points) status.
4. Shell Fuel Rewards
The Shell Fuel Rewards program has two tiers of savings:
Silver status saves you 3 cents per gallon.
Gold status awards you 5 cents per gallon in rewards.  New members are given Gold status for their first six months of membership.  After that, they have silver status or qualify for gold by making qualifying purchases in a three-month period.
Earn additional rewards by shopping, dining and traveling at participating partners.